Introducing a plan that fits lives as much as it helps them.
See how we're changing the conversation around SUD.
Designed alongside leading clinical partners, our Contigo Health COE 360 Substance Use Disorder Program™ is making it easier than ever for employees to seek the help they need. With this self-referring program, health plan members can access flexible, discreet, and confidential treatment on their terms.
Depending on care needs, members have the option of leading-edge virtual, in-home care provided by our trusted partner, Lionrock Recovery, or in-person care from the world-renowned Hazelden Betty Ford Foundation.* This approach gives the health plan member the opportunity to seek care in a familiar environment so they can continue their work and family obligations while addressing their substance use disorder.
What we all face:
1 in 7 Americans report experiencing a substance use disorder (SUD).1
Substance use overall has increased 30% since the start of the pandemic.2

The annual cost of a SUD diagnosis in 2018 was $15,640 per affected health plan member and $35.3 billion in the U.S. population

.3
Workers with untreated SUDs face chronic absenteeism, while workers in recovery miss 13.7 fewer days each year.4
How we help:
Confidential, easy-to-access self-referral program
24/7 support within an hour of first contact
Virtual medical in and outpatient care treatment for members
Less disruption to members' lives
Twelve months of support, from registration through post-discharge
Support for families affected by SUD
Tools and support to help members achieve lifelong recovery
What makes our SUD program so unique, aside from the promise of incredible support within an hour, is that health plan members can access our revolutionary hybrid treatment plan and get residential inpatient care, outpatient care, or virtual outpatient care, depending on their individual needs.
Together, let's change the conversation and the stigma around addiction treatment. Let's help people get back to their best lives.
*Lionrock Recovery is a trademark of Lionrock Behavioral Health, Inc., and Hazelden Betty Ford is a trademark of Hazelden Betty Ford Foundation.
1. Centers for Disease Control and Prevention. 2022. "Stigma Reduction." https://www.cdc.gov/stopoverdose/stigma/index.html.
2. Hazelden Betty Ford Foundation. 2021. "Americans Increasing Substance Use to Cope with Mental Strain; Parents at Highest Risk." https://www.hazeldenbettyford.org/press-release/mental-health-index-report.
3. Li, Mengyao, Cora Peterson, Likang Xu, et al. 2023. "Medical Costs of Substance Use Disorders in the US Employer-Sponsored Insurance Population." JAMA Network Open, 6(1). https://doi.org/10.1001/jamanetworkopen.2022.52378.
4. Ibid.

Transforming Behavioral Health and Substance Use Disorder (SUD) Treatment to Benefit Employer-Sponsored Health Plan Members and Employers
WATCH NOW
Learn more about our substance use disorder program for employer-sponsored health plans.
DOWNLOAD NOW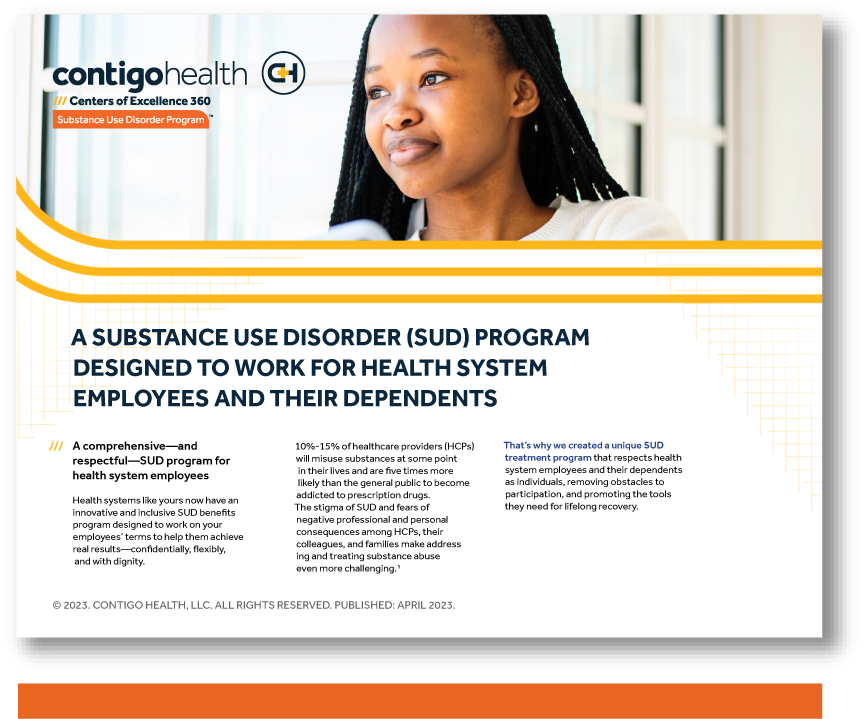 Learn more about our substance use disorder program for health systems.
DOWNLOAD NOW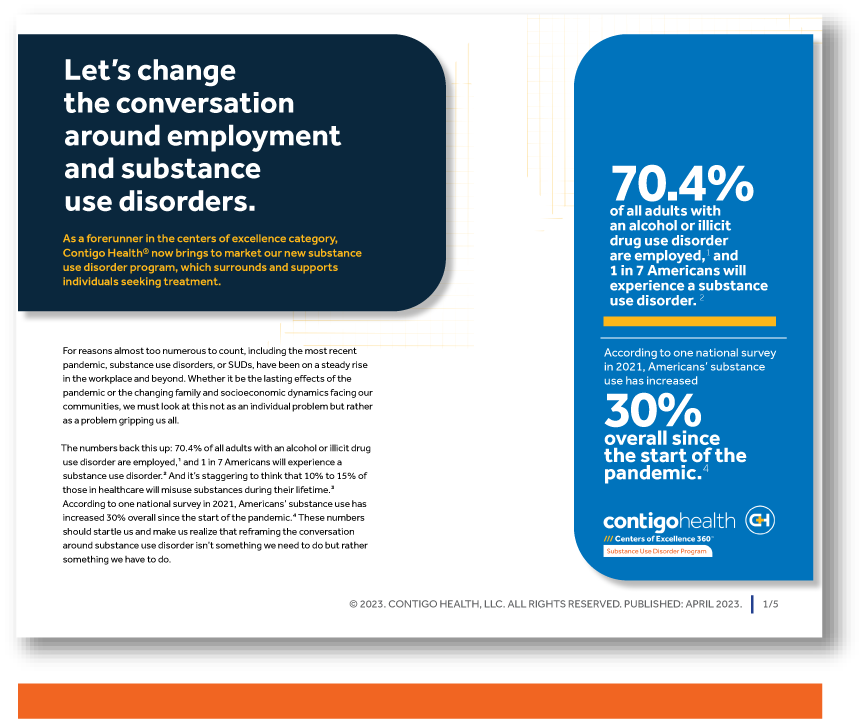 Changing the conversation around substance use disorders.
DOWNLOAD NOW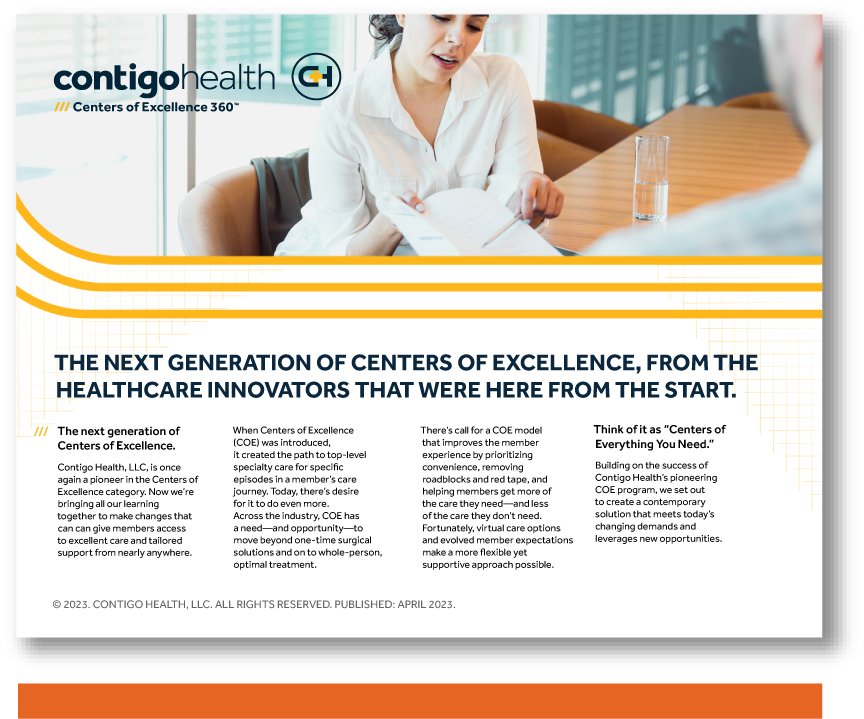 Learn more about Contigo Health Centers of Excellence 360.
LEARN MORE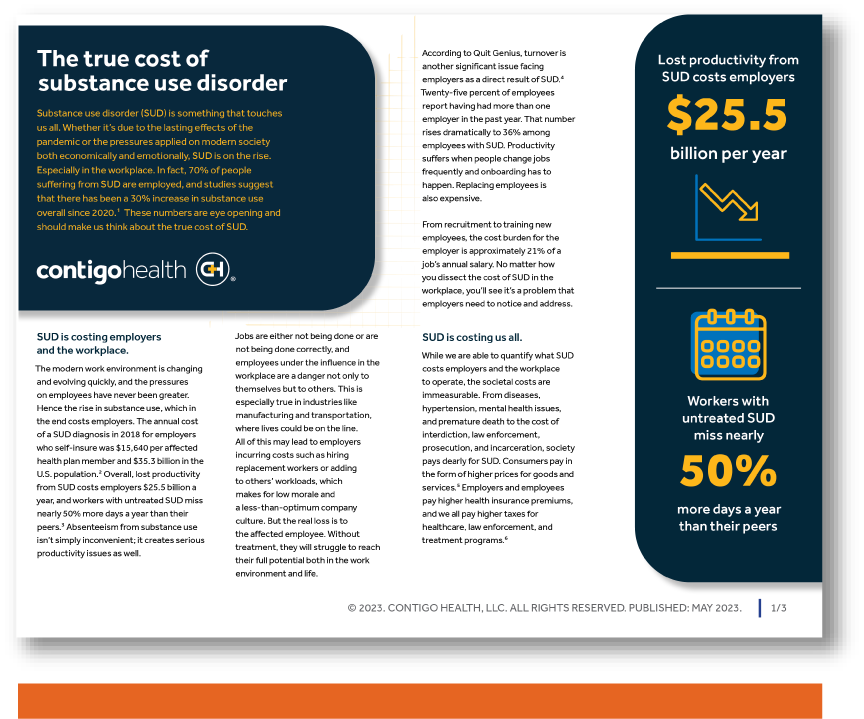 Learn more about the true cost of substance use disorder.
DOWNLOAD NOW
© 2023. Contigo Health, LLC. All rights reserved.