Through innovative Provider Network solutions, plus Health Plan Administration solutions, we're reshaping health plans to address the distinct cost-saving needs of employer-sponsored health plans that provide health insurance for nearly half of all Americans.
Through our nationwide network, Contigo Health® gives employer health plans market-leading, pre-negotiated claims repricing.
Exceptional claims repricing: pre-negotiated contracted rates that drive savings
900,000 contracted providers across 4.1 million U.S. locations spanning all 50 states and Puerto Rico
Access to acute care hospitals, ancillary facilities, chiropractors, durable medical equipment suppliers, home health services, laboratories, mental health practitioners, MRI centers, network physicians, physical therapists, radiology centers, surgery centers, and urgent care clinics, and more coming soon
Designed for seamless and frictionless integration—can plug and play
Introducing ConfigureNet Out-of-Network Wrap™
We offer a complimentary savings analysis to demonstrate the value available from our solution.*
Together we'll:
Analyze your existing out-of-network claims data for the past year.
Provide you with the savings opportunity and a quote.
Create a proposal and contract to help make the switch as easy as possible.
*Terms and conditions apply. Contigo Health is dedicated to continuous improvement and customer satisfaction. More ConfigureNet products are coming soon to meet your needs. In addition to ConfigureNet Out-of-Network Wrap, we offer a complete portfolio of health plan administration products, including Contigo Health Sync Health Plan TPA™, Contigo Health Payvider Activation™ and Contigo Health Centers of Excellence 360™.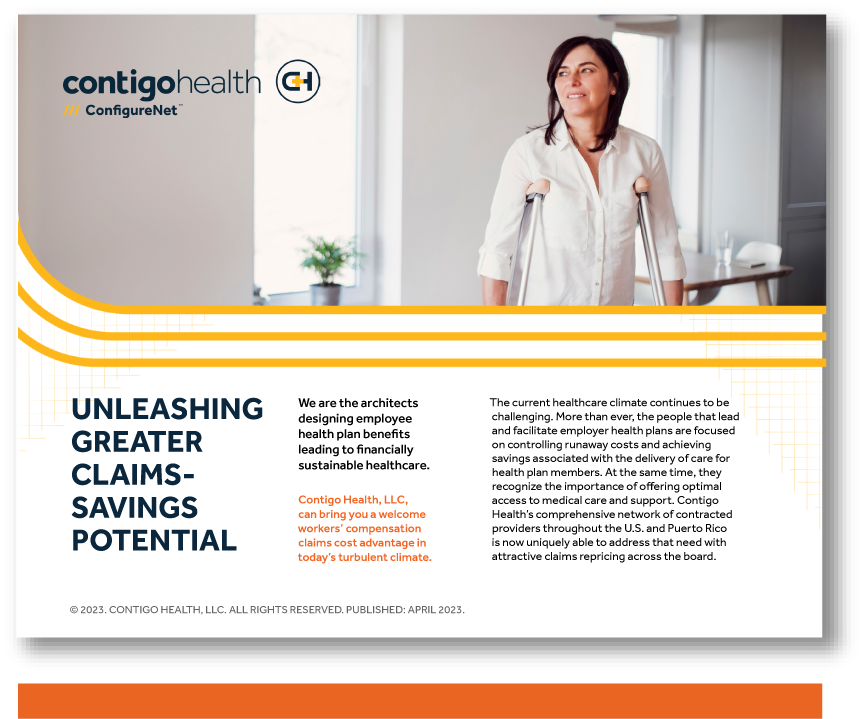 Learn about our workers' compensation claims cost advantage.
DOWNLOAD NOW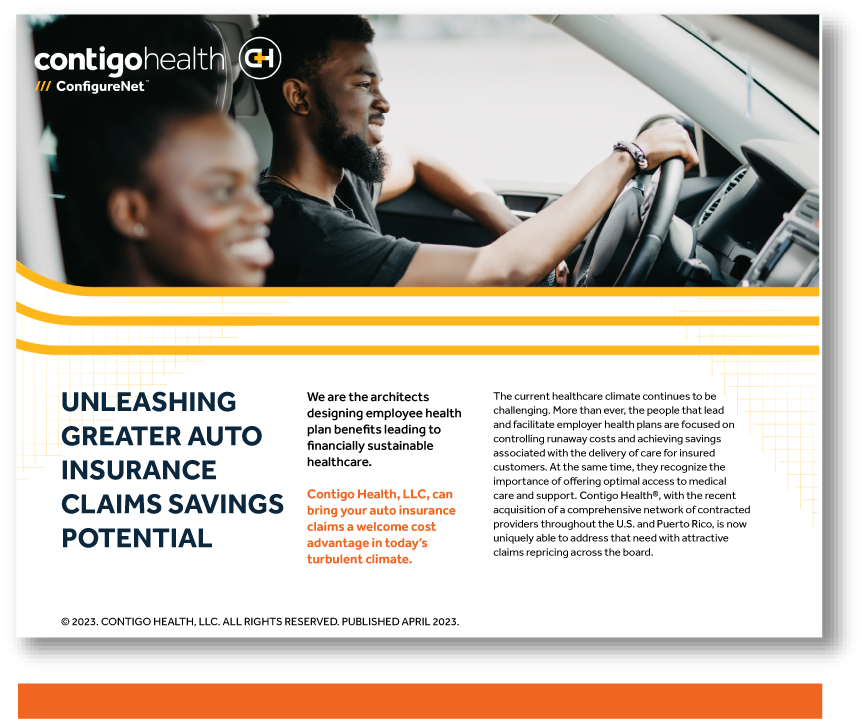 Learn how to unleash greater auto insurance claims saving potential.
DOWNLOAD NOW